Capacity Management Software for Venue & Event Safety & Queue Control
Our Venue & Event Capacity Management software gives live numbers on site: to improve safety and to support active capacity management.
It's Queue Management software that lets you make the most of your venue capacity. You can scan tickets or use the simple click counter. It let's you control one-in-one-out so you can safely maximise the number of people on site.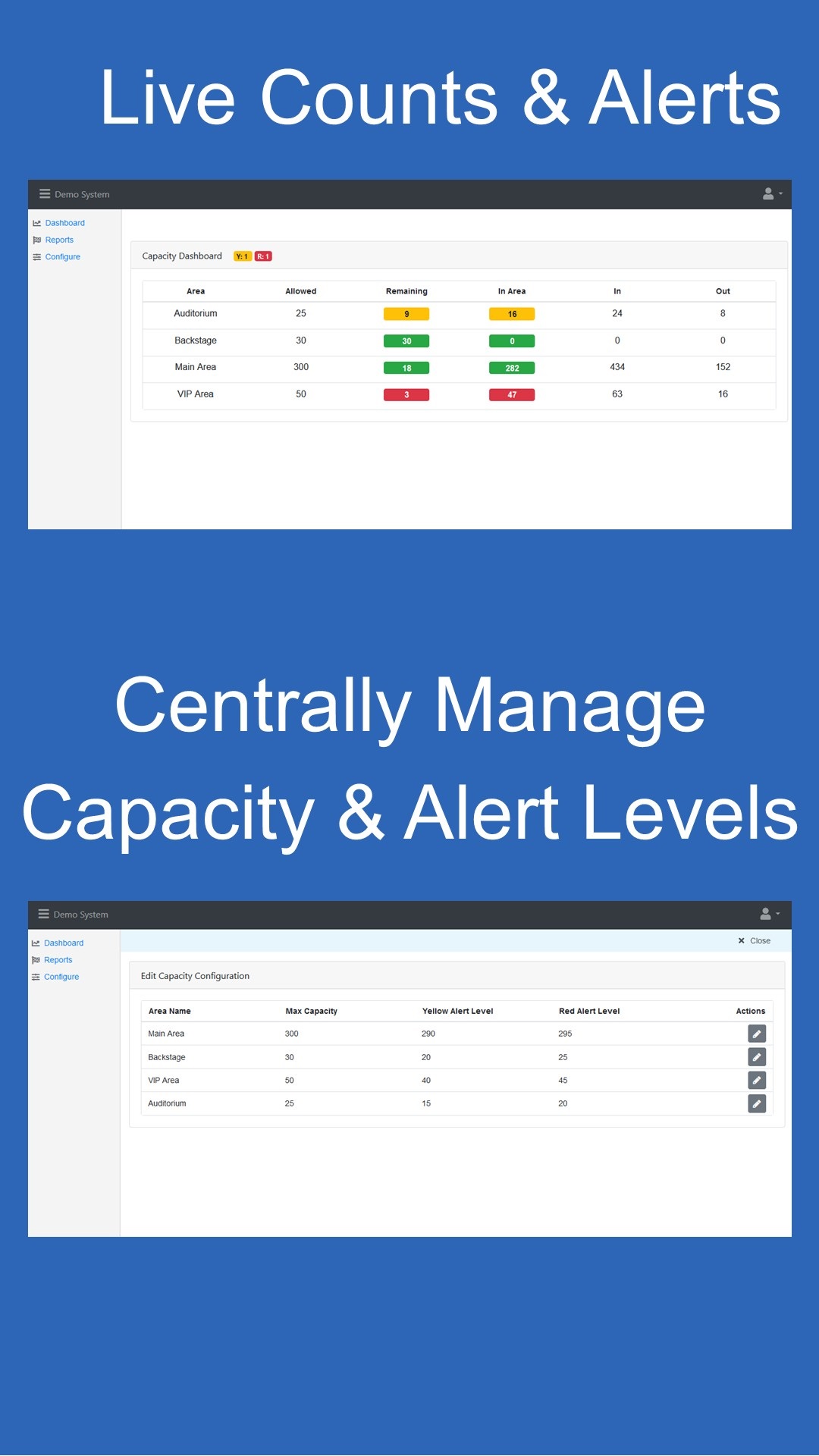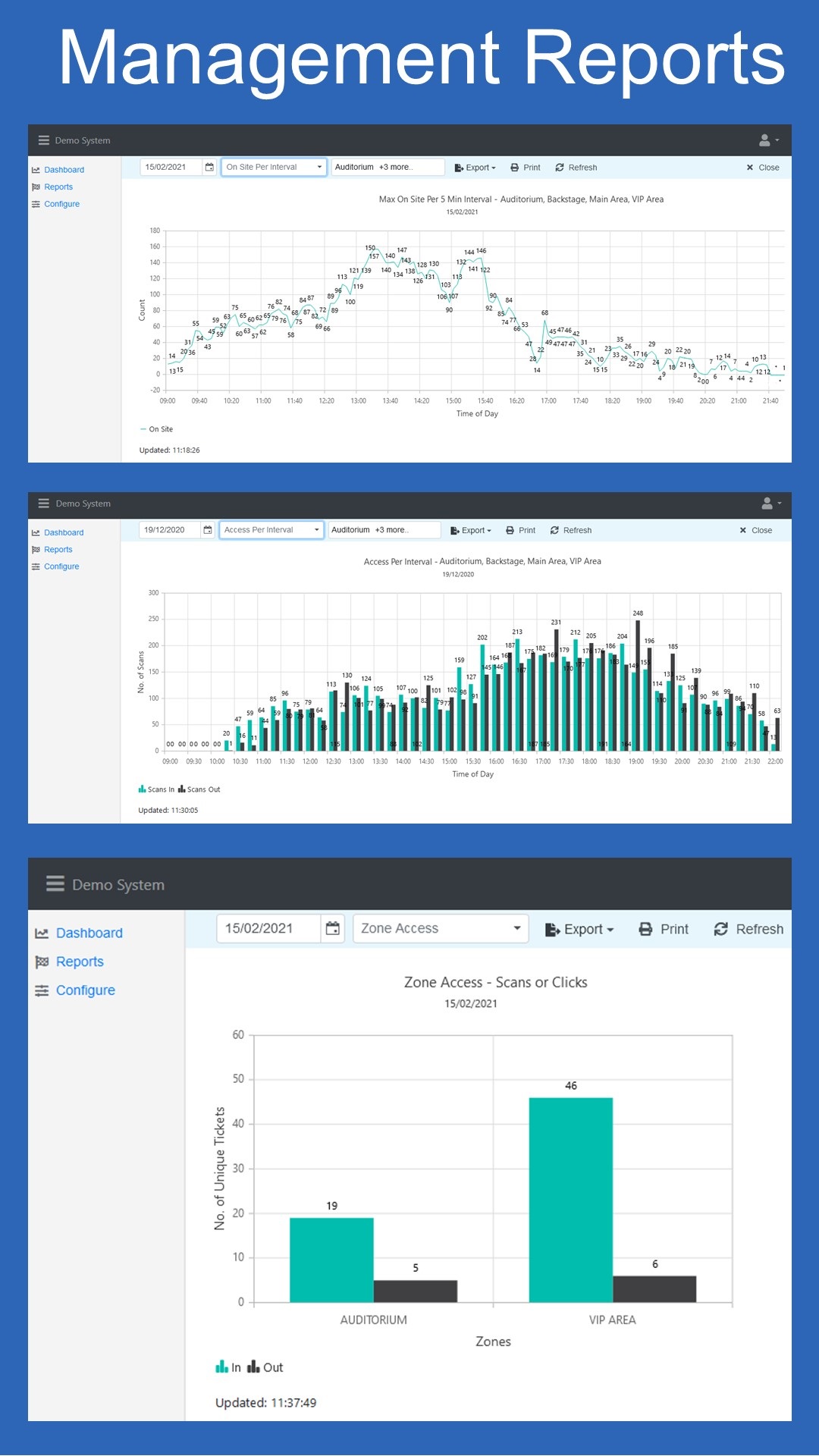 Social Distancing Capacity Management

Covid-19 has made Capacity Management for Social Distancing important.
Occupancy control has become key. With our occupancy tracker software you can:
See live occupancy levels.

Have informed, intelligent queue control.
Our Capacity Management and Queue Control software helps you let the maximum number of people enjoy your venue. At the same time it helps you keep them safe.
We are glad that it has a role to play in helping businesses, venues and events re-start after Covid-19.
We've been involved with capacity control and queue management for several years. We're keen to help. So please don't hesitate to get in touch. We're always happy to talk.
You can read more about our Capacity Management software below.
Live Capacity Management for Venue and Events
Our crowd managment software is easy to use. It lets you see live numbers on site and in different zones.
It gives real-time amber and red alerts as you get near capacity.
The on-the-ground team get a live view of numbers in each area for active crowd control.
With the live dashboard you can easily see what is happening in each area.
Make the Most of Venue and Event Capacity
The software gives staff on the ground the live information they need on numbers on site and remaining space.
Staff can manage queues and go to one-out-one-in as needed.
It helps you stay within allowed occupancy while still getting the maximum number of people on site.
Live information lets you direct attendees from busy to quieter areas.
Zones and Flows
Our Capacity Management software lets you easily monitor multiple zones.
Each zone has its own allowed occupancy, and yellow and red alert levels. These can be updated in real-time with the on-line admin tools.
Zones can also be linked. When a visitor moves from one zone to another, then numbers in both zones are automatically adjusted. Great for one-way systems, galleries and breakout rooms.
Live Control Dashboard
The on-line dashboard allows event, venue and security control to easily see real-time numbers in all zones.
Management Reports
Our suite of Management Reports help you make the best use of your resources: from making the most of available capacity, to the best deployment of staff. They give you useful information such as: how many people visit each day, which are the most popular days, when are the most popular times, which entrances get the most use and which are the most popular areas on site.
Easy Deployment
The flexible solution minimises infrastructure requirements using handheld devices to let staff manage capacity.
Event or venue WIFI or 4G is used for central monitoring. Where this isn't available capacity in different areas of the event can be managed independently.
Open Access Venues & Ticketed Events
Along with easy people counting for non-ticketed venues, the In-Site Capacity Management system integrates with our ticket validation software. Have the same informed, live capacity management at ticketed events.
Physical distancing does not have to mean social distancing.
KEY POINTS
Monitor capacity.
Control numbers on site.
Occupancy tracker lets you see live numbers on site and in different areas.
Set capacity and alert levels for the site, areas, zones and sessions.
Get automated alerts, including to your phone, when capacity is neared.
Live on-line dashboard for Control.
Prevent crowding.
Manage one-out-one-in. Maximise possible attendance.
Link zones.
Real-time information to direct attendees to less busy areas.
Reserve space for VIPs, etc.
Management Reports
Works for free, un-ticketed events.
Supports ticket scanning.
Low infrastructure requirements: WIFI or 4G for central monitoring and multi-access zones.
Innovative e-clickers for stewards and security.
Helps you meet requirements for capacity restrictions.
Manage crowd density and support physical distancing.
Measure attendance and ROI.