Capacity Management Software for Venue & Event Safety
Our Venue & Event Capacity Management software gives live numbers on site: to improve safety and to support active capacity management.
You can scan tickets or use the simple click counter.
It's Queue Management software that lets you make the most of your venue capacity. It let's you control one-in-one-out so you can safely maximise the number of people on site.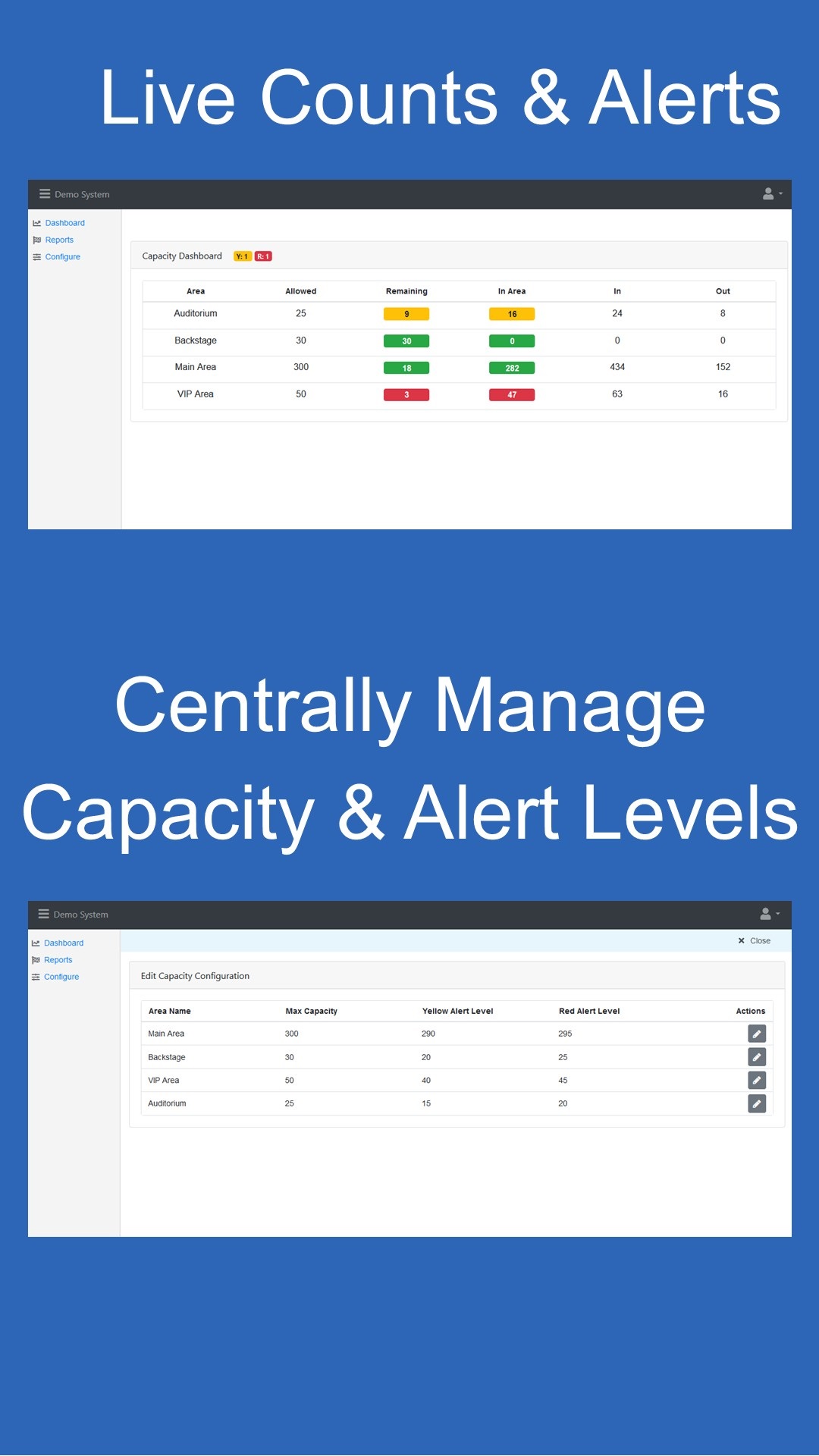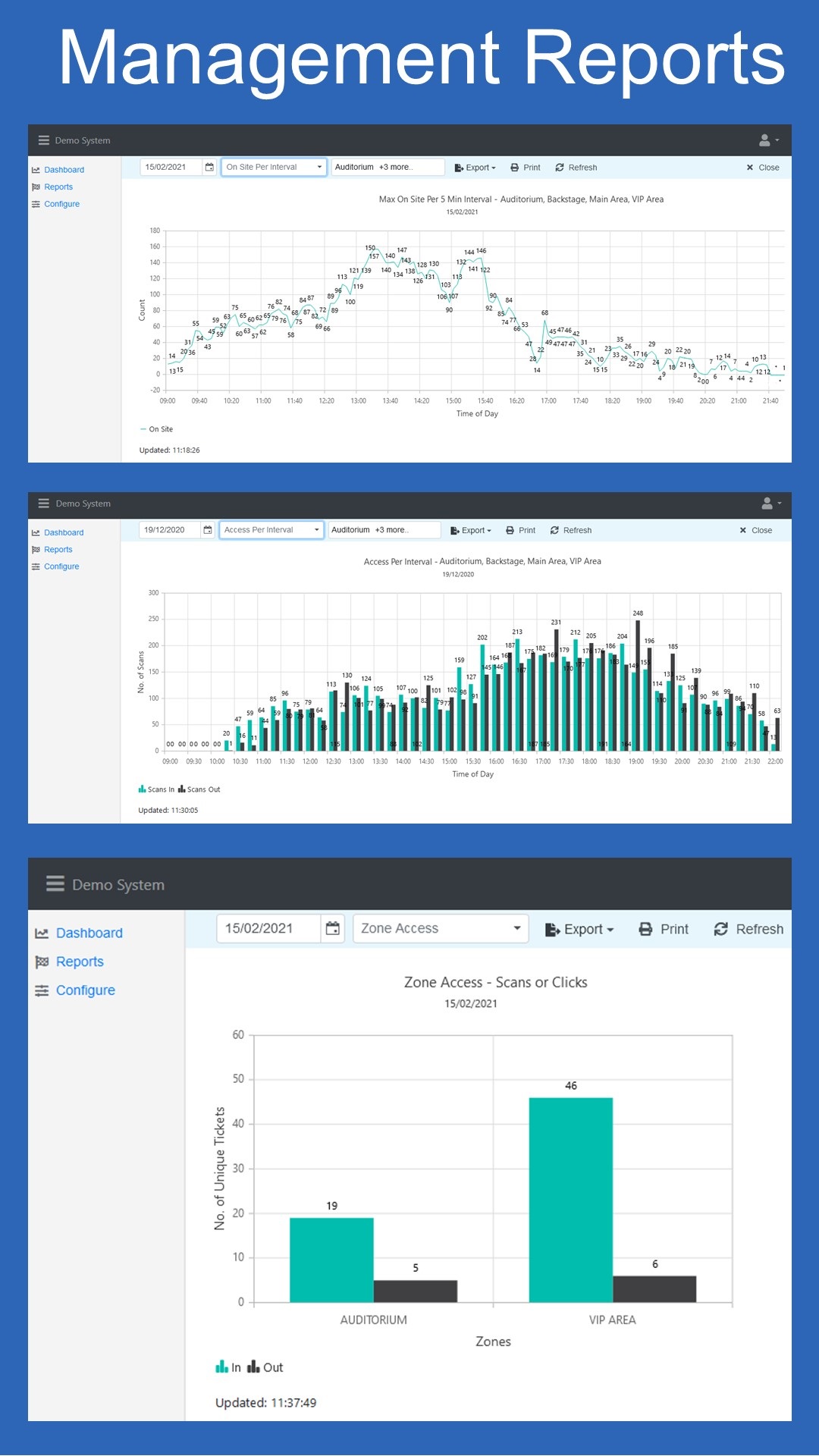 Live Capacity Management for Venues and Events
Capacity Management is a key part of keeping events and venues safe. With our occupancy tracker software you can:
See live occupancy levels.

Deliver informed, intelligent queue control.
With our Capacity Management and Queue Control software, you can let the maximum number of people enjoy your venue or event. At the same time you can keep them safe by preventing overcrowding.
It's easy to use crowd management software. With it, you can see live numbers on site. And you can see how many people are in different areas.
It gives real-time amber and red alerts that warn you as you get near capacity.
The live dashboard lets you easily see what is happening in each area.
And there's a mobile dashboard for the on-the-ground team.
Make the Most of Venue and Event Capacity
The Mobile App gives staff on the ground the live information they need. It shows them on numbers on site and remaining space.
Staff can manage queues. And if needed they can go to one-out-one-in.
It helps you stay within allowed occupancy, while still getting the maximum number of people on site.
And the live information lets you direct attendees from busy to quieter areas.
Zones and Flows
With our Capacity Management system, you can easily monitor multiple zones.
Each zone has its own allowed occupancy. And each area can have its own yellow and red alert levels. for each area. These can be changed in real-time with the on-line admin tools.
Zones can also be linked. When a visitor moves from one zone to another, then numbers in both zones are automatically adjusted. Great for one-way systems, galleries, breakout rooms, etc.
Live Control Dashboard
The on-line dashboard allows you to easily see real-time numbers in all zones.
Management Reports
Our suite of Management Reports help you make the best use of your resources: from making the most of available capacity, to the best deployment of staff. They give you useful information such as: how many people visit each day, which are the most popular days, when are the most popular times, which entrances get the most use and which are the most popular areas on site.
Easy Deployment
Our flexible solution minimises infrastructure needs. It is quick and easy to deploy, and uses mobile devices. This is very flexible, as devices can easily be moved around.
The Capacity Management App can be deployed on your own mobile phones or tablets, or you can use our rugged devices.
Event or venue WIFI or 4G/5G is used for central monitoring. Where this isn't available, capacity in different areas of the event can be managed independently.
Open Access Venues & Ticketed Events
As well as offering easy people counting for non-ticketed events and venues, the In-Site Capacity Management system is fully integrated with our ticket validation software. Giving you the same informed, live capacity management at both free and ticketed events.
From Small Events to Big Events
Our Capacity Management Solution is fully scalable. It's been used to manage small spaces with capacity for only 50 people, to large events with over a million visitors.
"GMS has been an important tool to support the pavilion's operation and guest management flow. The operations team has been using the GMS to monitor all the front-of-house area capacities, guarantee a better guest experience and comply with Covid-19 regulations. Due to the frequent Covid-19 regulations changes, we have been able to update the pavilion areas capacities easily and quickly using the GMS system."
Isabella Fernandez Nogueira, Senior Operations Manager, UAE Pavilion Expo 2020 Dubai
KEY POINTS
App runs on mobile phones and tablets.
Monitor capacity.
See live numbers on site and in different areas.
Set capacity and alert levels for the site, areas, zones and sessions.
Get automated alerts, including to your phone, when capacity is neared.
Live on-line dashboard for Control.
Prevent crowding.
Manage one-out-one-in. Maximise possible attendance.
Link zones.
Real-time information to direct attendees to less busy areas.
Reserve space for VIPs, etc.
Management Reports
Works for free, un-ticketed events.
Supports ticket scanning.
Low infrastructure requirements: WIFI or 4G for central monitoring and multi-access zones.
Innovative e-clickers for stewards and security.
Helps you meet requirements for capacity restrictions.
Manage crowd density and support physical distancing.
Measure attendance and ROI.