Our Audience Engagement suite is designed to help you build your relationship with your audience; understand them that bit more; communicate with them that bit better; and help give people that special experience so that they come back time-after-time.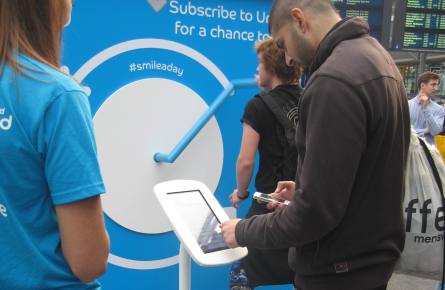 Audience Engagement
Express Interest & Request Information InSite Engage is fully flexible with static tap points, a handheld scanners option and our downloadable mobile app.
Personalised post-event information InSite My Event helps you provide individually tailored information for your attendees and establish on-going, post-event communication.
Newsletter Sign-Up standalone or integrated with other apps; mobile or fixed kiosk; easy tablet deployment.
Questionnaires see answers and refine questions in real-time; mobile or fixed; large touch screen or tablet deployment.
Freebie Redemption Goody bags, free coffees, VIP buffet, glass of champagne? You name it. Handles any number of redemption items with guest entitlements from one to unlimited. Allow your sponsors to offer perks and samples too with full tracking of take-up.
Competitions, Games, etc

Kiosk & Tablet Competitions tap to see if you're a winner.
Leaderboards and e-stopwatches for more competitive fun.
Just for fun: DJ Tune Pickers; party casinos; stretch your imagination…
Guest Services

Seat & Table Finders smart, flexible and fully brandable.
Smart RFID & Barcode Cloakrooms and VIP Shopping Services banish the paper cloakroom ticket and let your event pass do more.
Social Media Posting let your guests easily share their experiences and promote your event.
Roaming Photography with event branded photographs printed, emailed and/or posted to social media.
KEY POINTS
Many deployment options: fixed tap points, touch screens, tablets, mobile apps, hand-held scanners, etc.
Adaptable for all sorts of events: from festivals to product launches, from balls & parties to conferences & exhibitions, the possibilities are endless.
Fully flexible: supports seminars, manned stands, self-serve information points, in-door or out-door deployment and lots more.
Manage and track perk redemption.
Develop your relationship with your attendees.
Create opportunities to learn more about your audience.
Increase communication at and post event.
Build understanding.
Delight & entertain.
Make memories.
Grow loyalty.
Get people talking.
InSite Custom Development for that extra-special idea.